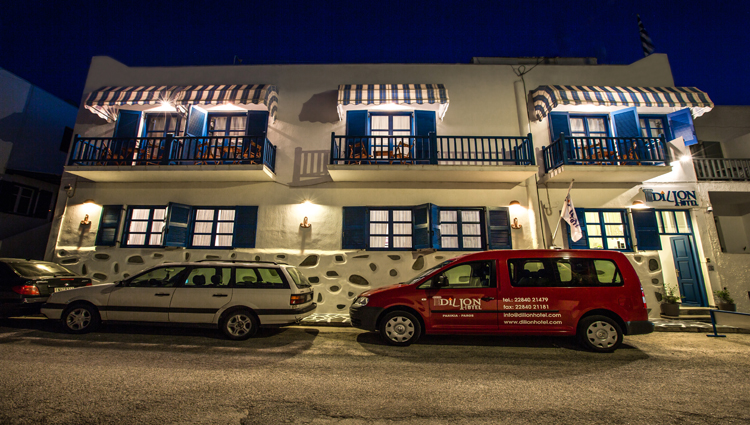 Situated in a quiet side road, Dilion is a Hotel in Paros, is just one minute walk from the lovely long sandy main beach in Parikia, the capital of Paros. The hotel was renovated in 2013 and promises warm welcome as the Aegean sun and an excellent service. It is conveniently located about 10 minutes from the port and the town centre. A bus is available to transport guests and their luggage from and to the port on arrival and departure. WI-FI is available all around the permises and is free of charge.
Dilion Hotel is located in Parikia, capital of Paros.
Is only a 1 minute walking distance from the long sandy beach of Paros, 5 minutes from the harbour of Paros and 10km from the airport.
DILION is a hotel in Paros located very close to the Port in Parikia and very close to the restaurants and Livadia Beach.
Is the best choice for holidays, for warm hospitality, cleanliness, for those who want cheap rooms in Paros.
If you are looking for a memorable accommodation in Paros then visit DILION, the awarded from the guests, hotel in Parikia.
Holidays in one of the hotels in Paros is an unforgettable experience for the visitor. DILION combines cheap rooms in Parikia close to Ekatontapiliani church with the quality and the respect for the guest.
By Ferry (and car)
From Pireus and Rafina, Paros is very well connected with many ferries every day.
From the harbour of Paros:
Getting out of ferry take the sea road on the left. After 500m when you see the first trees along the road you will face a fish tavern named: APOSTOLIS, turn right, after 50meters you will see DILION Hotel on your right.
See the map
2. From the airport of Paros:
By taxi (takes about 15min), Direction: Parikia, Area: Livadia.